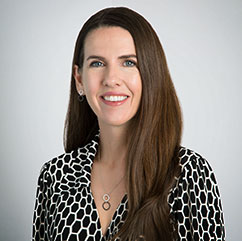 Alison Benge
Partner
Alison Benge's practice focuses on public finance transactions, primarily as tax counsel for various governmental, 501(c)(3), and other tax exempt entities. Her clients have included municipalities, school districts, water and sewer systems, electric utilities, conduit issuers, and other governmental entities. Alison has extensive experience with transactions including utility revenue bonds (water, sewer, and electric), tax allocation bonds, tax credit and direct subsidy bonds (NCREBs, QECBs, QZABs, and BABs), land secured financings (special tax bonds and assessment bonds), general obligation bonds, lease financings and certificates of participation, exempt facility and 501(c)(3) financings (for medical, educational, and retirement facilities), and multifamily housing.
Alison is active in her community serving as a volunteer for local school, sport, and church organizations, and she is passionate about charitable giving and effective altruism. Alison and her husband Jeremiah enjoy spending time with their three children, rooting for the Indianapolis Colts and the Chicago Cubs, and entertaining family and friends.

Bar Admissions:
Washington
California
North Carolina (inactive)
Education:
Hanover College, B.A., Economics, summa cum laude
Duke University School of Law, J.D., cum laude
Speaking Engagements & Presentations:
Panelist, Treasury Institute for Higher Education's Tax Exempt Bond Compliance Conference
– "New Allocation Rules for Mixed Use Projects" (2017)
Presenter, Tax Compliance Training (2016)
Presenter, Pacifica Law Group:
–  "Mixed Use Projects: Allocation and Accounting Under New IRS Regulations" (2015)
Speaker and Panelist, NABL Bond Attorneys' Workshop:
–  "Bank Direct Purchases – Advanced Tax Topics" (2016)
–  "Refundings and Reissuance" (2015-17)
–  "Tax Due Diligence and Documentation" (2010-14)
Speaker and Panelist, NABL Tax and Securities Law Institute:
–  "Tax Hot Topics" (2017)
–  "Understanding the Pricing Process" (2016)
–  "Tax and Securities Law Issues in Bank Loan and Private Placements" (2015)
Speaker and Panelist, NABL Fundamentals of Municipal Bond Law Seminar:
–  "Qualified 501(c)(3) Bonds" (2016)
–  "Avoiding Private Activity" (2016)
–  "Engagement letters and Opinions;" "Due Diligence and Drafting Disclosure;" "Underwriters' Counsel" (2009)
–  "Leases and Non-Traditional Financings" (2014-15)
–  "Basic Structuring and Documentation" (2014-15)
Publications:
"Tax-Exempt Bond Update: IRS Proposes Changes to Public Approval Requirements for Private Activity Bonds" (October, 2017)
"Tax-Exempt Bond Updates: IRS Publishes Final Issue Price Regulations" (December, 2016)
"IRS Updates Safe Harbor Provisions for Management Contracts" (August, 2016)
"IRS Releases Proposed Political Subdivision Regulations" (February, 2016)
"Financing Renewable Energy and Energy Conservation Projects" (2009)
Community Involvement:
Giving What We Can, Member
Save the Children, Sponsor and Special Projects
Zionsville Youth Soccer Organization, Volunteer
St. Francis-in-the-Fields Episcopal Church, Vestry Member and Senior Warden (2010-2013)
Professional Organizations:
National Association of Bond Lawyers, Fundamentals of Bond Law Conference, Vice Chair (2016-17) and Chair (2017-18)
Pacific Northwest Chapter of Women in Public Finance, President and Founding Member
National Association of Bond Lawyers (NABL)
Representative Matters:
Served as special tax counsel for a large school district for over $350,000,000 principal amount of bonds, including tax-exempt bonds, qualified school construction bonds, and new clean renewable energy bonds.
Served as bond counsel for several series of tax credit and federal subsidy obligations for a large municipal utility.