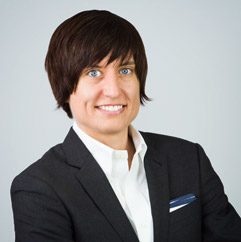 Nicole DeNamur
Associate
Nicole DeNamur's practice focuses on insurance coverage and construction litigation. She has represented construction clients in all aspects of litigation from discovery to settlement. Nicole has experience managing complicated discovery and working with experts to understand the technical aspects of construction disputes. Her understanding of both the insurance and construction industries allows her to understand the big picture and develop cost-effective solutions for her clients.
Nicole is also a LEED® Green Associate™ and WELL AP™ with a passion for the intersection of green building, sustainability, and the law. She has presented on her holistic and proactive approach to the legal issues associated with high-performing buildings, and advocates for developing greater connections between the legal community and the sustainability community. Nicole is an Affiliate Instructor at the University of Washington's Runstad Center for Real Estate Studies, where she teaches Risk and Reward in Sustainable Development. She also developed the course she taught in 2016, Policy and Planning, part of the Master's Program in Design for Human Health at Boston Architectural College.
While in law school, Nicole was an extern for the Honorable Michael J. Fox (ret.) in King County Superior Court. After graduation, Nicole spent two years working as a Deputy Prosecutor for the King County Prosecuting Attorney's Office. As a Deputy, she tried cases where the charges ranged from driving under the influence to juvenile burglary and assault.
Before joining Pacifica, she spent over three years focusing her work on construction and commercial litigation at another Seattle law firm.
Nicole's community efforts focus on incentivizing and encouraging healthy, high-performing buildings. She is a former Steering Committee Member of the Associated General Contractors' Future Leadership Forum (January 2011 – December 2011) and former Board member of Washington Lawyers for Sustainability (2012 – 2013).
Nicole lives in West Seattle, and enjoys cycling and spending time outdoors.
Bar Admissions:
Education:
University of Michigan, B.S., The Environment (Big Ten Conference High Jump Champion, Member of three Big Ten Conference Champion teams)
Seattle University School of Law, J.D., magna cum laude, Dean's List 2005—2006 (CALI Awards (Legal Writing II, Sales and Secured Transactions, Family Law, Evidence))
University of Oregon, Sustainable Leadership Program, Sustainable Built Environment
Columbia University, Biosphere II Campus (six-week research based course)
Honors:
Washington State Bar Association Leadership Institute Fellow, 2011
Speaking Engagements & Presentations:
Presenter, Washington State Bar Association, So This is What's Developing With Real Estate Development, "Identifying the Legal Issues Associated With Sustainable Buildings" (April 2016)
Panelist, University of Utah S.J. Quinney College of Law's Twenty-First Annual Stegner Symposium: Green Infrastructure, Resilient Cities: New Challenges, New Solutions – "Rethinking Buildings" (March 2016)
Co-Chair and Presenter, "The Business Case for Building Green" (The Seminar Group, May 2015)
Second Round Education Session Reviewer, for topics of Finance, Insurance, Appraisals and Legal Issues, Greenbuild 2015, (U.S. Green Building Council, November 2015, Washington DC)
Guest Lecturer, Bainbridge Graduate Institute at Pinchot, "Defining 'Green'" (March 2015)
Presenter, Social Justice Tuesdays, University of Washington School of Law, "Social Justice and Sustainable Design" (February 2015)
Guest Lecturer, Bainbridge Graduate Institute, SESC 562 (Sustainable Energy Solutions, March 2013)
Moderator, "The Green Building Big Picture: Perspectives on Sustainable Building Design, Certification, Performance and Risk" (February 2013)
Presenter, "Mitigating Green Building Risks: Best Practices" (July 2012, to Home Performance Washington and Seattle LEED® User's Group)
Presenter, "Green Building and Your Contact" (Lorman Presentation, February 2012)
Presenter, "Case Law and Legislative Update (Construction)," Ashbaugh Beal's 12th Annual Construction Law Forum (October 2011)
Moderator, Associated General Contractors, Future Leadership Forum, Green Building Panel (May 2011)
Co-Presenter, Associated General Contractors, Future Leadership Forum, "Construction Claims in Six Easy Steps" (October 2010)
Publications:
"Green Comes with a Warning Label" (Puget Sound Business Journal, July 2016)
"Legal Hurdles Faced by Deep Green Buildings: Case Studies and Recommendations" Washington Journal of Environmental Law and Policy (November 2013)
"A Little "Green Thinking" at the Beginning of a Project Can Help Contractors Avoid Problems Down the Road" (June 2011)
"Public Records Act Provides Contractors with a Powerful Tool Against Public Owners" (July 2010)
"Advice to Owners: Be Proactive on Small Business Loans" (Puget Sound Business Journal, May 2009)
Community Involvement:
Board of Directors, Washington Lawyers for Sustainability, 2012—2013
Human Rights Campaign, Membership and Fundraising Sub-Committees, 2003—2006
Professional Organizations:
Associated General Contractors of Washington, Future Leadership Forum, Steering Committee, January 2011—December 2011
Q Law, The GLBT Bar Association of Washington, Law Student Outreach Committee, July 2008—July 2009
Representative Matters:
Representation of national manufacturer in insurance coverage disputes with several insurers
Representation of title insurer against various allegations
Represented general contractor engaged in dispute with subcontractor over under-performing product
Representation of experienced national contractor facing numerous challenges on a large public construction project
Represented condominium associations initiating construction defect lawsuits against a national developer