Our Firm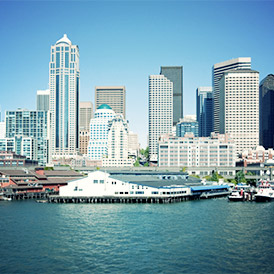 Unwavering Integrity.
Proven Excellence.
Recognized Experience.
A Firm Founded to Serve Pacific Northwest Clients. Pacifica Law Group was created in April 2011 by former partners of one of the largest international law firms in the country to create a law firm that is committed to the dynamics and values that drive Northwest companies and civic entities.
Pacifica has grown significantly since its launch, and provides extensive experience in the areas of litigation, appeals,  municipal finance, construction, public-private partnerships, real estate, education and school districts, complex transactions, public records, ethics, and other areas of general municipal law for public and private sector clients in the Pacific Northwest.
Our Focus
Unparalleled Legal Experience in the Pacific Northwest
Unmatched Service
Team Approach
Creative and Thoughtful Solutions
Commitment to Our Community
Mission
We are a law firm committed to serving public and private clients in the Pacific Northwest with focused and sophisticated talent, intellect, creativity and unwavering integrity. We offer a range of services to help our clients address their most pressing legal needs.
Values
We value each other and will treat every person with the same measure of respect and care that we would expect of them. We will be open, honest and civil in all of our dealings. We recognize that we are all linked in a community and are committed to giving of our time and means to that community. We value our differences and recognize the importance of diversity in our firm, in the legal profession and in our community at large. We value balance in our work and lives. We are committed to building an enduring law firm with a stellar reputation.
Community / Pro Bono
The attorneys and staff of Pacifica Law Group have deeply-held, long term professional and personal commitments to civic responsibility, community volunteerism and industry participation. This tradition is reflected in prominent leadership positions and/or pro bono service to many organizations, associations, boards and committees, including:
36th District Democrats
ABA Business Law Section
ACLU of Washington
Alexander Hamilton Scholars
Arts Fund
ArtsEd Washington
Bainbridge Island Fire Department
Bainbridge Island FC
Bellwether Housing
Board of Trustees of College Spark
Boston Architectural College
Building Owners and Managers Association (BOMA Seattle)
Bullitt Foundation
Capital Projects Advisory Review Board
Center for Children and Youth Justice: Lawyers Fostering Independence
Chief Seattle Club Board of Directors
City of Seattle Families & Education Levy Oversight Committee
City of Seattle/Mayor's Office Selection Committees
City of Seattle Waterfront Steering Committee
Coalition to End Native Homelessness
Council of Public Legal Education
CREW (Commercial Real Estate Women)
Cultural Access Program Legislation
Downtown Seattle Association
Federal Bar Association
Federal Civil Rights Clinic at the U.S. District Court for the Western District of Washington
Forterra
Friends of Seattle Waterfront
Imagine Housing
Inn of Court
John Muir Elementary PTA
King County Bar Association (KCBA) Appellate Section Executive Committee
KCBA Neighborhood Legal Clinic
KCBA Future of Law Institute
KCBA Young Lawyers Division
KEXP Amplifier
KIND (Kids in Needs of Defense)
Korematsu Center for Law and Equality
Lawyers Committee for Civil Rights Election Protection Project in Washington State
Lawyers Committee for Civil Rights Judicial Diversity Initiative
Lawyers Helping Hungry Children
Leadership Tomorrow
Legal Voice
Local Candidate and Ballot Political Campaigns
MAMA Seattle
Municipal League of Seattle/King County
National Association of Bond Lawyers
Ninth Circuit Attorney Mentor
Pike Place Market Foundation
Pioneer Square Preservation Board
Schools First
Seattle Housing Affordability and Livability Agenda (HALA)
Seattle Men's Chorus
Seattle Musicians Access to Sustainable Healthcare
Seattle Parks Foundation
Seattle University Alumni Board of Governors
Seattle United Soccer
SeattleWorks
Seward Park Environmental and Audubon Center Board of Directors
Summit on Civics for Washington
State Board of Community and Technical Colleges
St. Joseph Parish and School
Teach for America
University Prep
University Unitarian Church
UW College of Build Environments/Runstad Center
UW President's Minority Community Advisory Council
Walk MS Bainbridge
Washington Association of Municipal Attorneys
Washington Public Treasurer's Association
Washington State Budget and Policy Center
Washington Women Lawyers
Woodland Park Zoological Society
Your House Boxing and Community Club
YouthCare Board of Directors
YWCA – Seattle/King/Snohomish