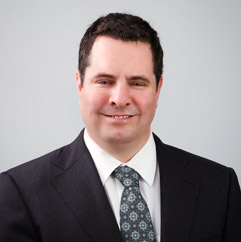 Matthew J. Segal
Partner
Matt Segal's practice focuses on litigation, counseling and dispute resolution for public and private clients.
Matt's litigation experience spans the appellate and trial court level, with an emphasis on complex appellate matters, federal and state constitutional law, municipal law, insurance coverage, land use, public records, and media & privacy issues. Matt has appeared and presented arguments in state and federal trial and appellate courts, including the United States Court of Appeals for the Ninth Circuit, Washington Supreme Court, all three divisions of the Washington Court of Appeals, and the United States District Courts for the Western District of Washington and Eastern District of Washington, District of D.C., Southern District of California, and District of Maine.
Matt also regularly counsels and defends public clients with respect to a wide range of topics. Matt's work for public clients has included representing cities such as Bellevue, Seattle, Federal Way and Yakima; and other public entities such as Sound Transit, the Tacoma School District, and the King County Rural Library District.
Prior to the founding of Pacifica Law Group, Matt was a partner at the law firm of K&L Gates, and an associate at its predecessor firm Preston Gates & Ellis. Before entering private practice, Matt also served as a judicial clerk for Justice Charles W. Johnson of the Washington State Supreme Court, where he drafted opinions on issues ranging from software licensing to capital punishment, reviewed legal briefings on cases before the court, and made recommendations to the bench. Matt also worked as an extern for the Pierce County Department of Assigned Counsel, where he tried cases as criminal defense counsel for disadvantaged youths. Matt began his legal career as a law clerk for Rush, Hannula, Harkins & Kyler in Tacoma, Wash.
Matt served on the Board of Directors of the ACLU of Washington, and has been repeatedly commended by the Washington State Bar Association for his pro bono legal work.
Matt earned his J.D. from Seattle University School of Law, in 1999, summa cum laude. He was a Presidential Law Scholar and Lead Article Editor for the Seattle University Law Review. He earned his B.A. in history from the University of California, Berkeley, in 1993. At Berkeley, Matt also served as the News Director for KALX Radio. Before he became a lawyer, Matt worked as a print and broadcast journalist, including filings and submissions for the Associated Press, A.P. Network News, ABC News, the Alaska Public Radio Network and Pacific Islands Monthly in Fiji.
Bar Admissions:
Honors:
Selected for inclusion in The Best Lawyers in America© in the fields of Appellate Law and Municipal Law (Copyright by Woodward/White, Inc., of Aiken, SC), 2016-2018
Selected for Washington Super Lawyers, 2011-2017
Selected for Washington Rising Stars, 2004-2009
 Preston Gates & Ellis Jim Ellis Award for service as an ACLU Cooperating Attorney
Greater Seattle Business Association's Special Recognition Award Collaboration for Social Change
Speaking Engagements & Presentations:
How Penalties and Fees Tie to Agency Best Practices – WSBA: The State of the Public Records Act in 2014 and Beyond (2014)
Public Records Act – COSA Fall Workshop (2014)
Update on Public Records Including Proactive Litigation:  Prisoner Injunctions – WSAMA Spring Conference (2012)
Balancing Campaign Regulations and Free Expression – WASBO Conference (2012)
Trying the Takings Case/The Trial Before The Trial – The Practicalities of Effective Case Preparation and Strategy Before Filing and Hearing – Regulatory Takings Seminar (2012)
Applying the Latest Legal Authority in Your Production of Electronic Records – WAPRO Spring Training (2011)
Electronic Records:  A Meta Philosophy of Metadata – WAPRO Fall Conference (2011)
Public Records:  Practical Issues Managing Social Media – WSAMA Fall Conference (2010)
The Public Utility of Social Media:  Using the Tools and Knowing the Rules – Washington Public Utility Districts Association (2010)
Applying PDC Guidelines to Social Media – Social Media Workshop for Schools (2010)
Preservation of Electronic Public Records:  What is Required and How to Comply – WSAMA Fall Conference (2009)
Legal Implications of RIF (Regional Institutional Framework) – Presentation to the Governing Council of South Pacific Applied Geoscience Commission, Port Vila, Vanuatu (2009)
Religious Land Use Issues in Washington State – WSAMA Fall Conference (2008)
Washington's Public Records Act – WSAMA Spring Conference (2007)
Northwest Public Records Statutes – PNRC-NAHRO Annual Conference (2006)
Washington Public Disclosure Act – Preston Gates & Ellis CLE (2005)
The Appellate Process – Preston Gates & Ellis CLE (2003)
Representative Matters:
Central Puget Sound Regional Transit Authority v. Level 3 Communications, LLC, 2012 WL 1574305 (9thCir. 2012)
Parisi v. Sinclair, 2012 WL 3068437 (D.C. Cir. 2012) (appeal dismissed by opposing party)
Chicago Title Ins. Co. v. State Office of the Ins. Commissioner, 166 Wn. App. 844, 271 P.3d 373 (2012)
Freeman v. Gregoire, 171 Wn.2d 316, 256 P.3d 264 (2011) (dismissal of original writ proceeding in Washington Supreme Court in favor of Sound Transit)
Eastwood Enterprises, Inc. v. Tacoma School Dist. No. 10, 2011 WL 2565255 (Wash. App. 2011 (obtained reversal of fee awards against the District, and denial of subsequent petition for review)
State v. Fry, 168 Wn.2d 1, 228 P.2d 1 (2010)
Sanders v. State, 169 Wn.2d, 240 P.3d 120 (2010)
Pande Cameron & Co. of Seattle, Inc. v. Central Puget Sound Regional Transit Authority & City of Seattle, 376 F. Appx. 672 (9th Cir. 2010)
Coulter v. AstenJohnson, Inc., 155 Wn. App. 1, 230 P. 3d 169 (2010)
United States v. Manning, 527 F.3d 828 (9th Cir. 2008) (constitutionality of Washington Initiative 297)
Gearin v. Jones, 2008 WL 4060945 (Wash. App. 2008)
Washington Rule of Law Project v. McKenna (Wash. 2007)
Pierce County v. State II, 159 Wn.2d 16, 148 P.3d 1002 (2006)
In re Disciplinary Proceeding Against Sanders, 159 Wn.2d 517, 145 P.3d 1208 (2006)
Coulter v. AstenJohnson, Inc., 135 Wn. App. 613, 146 P. 3d 444 (2006)
Sheehan v. Central Puget Sound Regional Transit Authority et al., 155 Wn.2d 790, 123 P.3d 88 (2005)
United States v. Hoffman, 154 Wn.2d 730, 116 P.3d 999 (2005)
Washington State Farm Bureau Federation v. Reed, 154 Wn.2d 668, 115 P.3d 301 (2005)
Hansen v. Knoll (Wash. App. 2005) (appeal settled post argument)
Kirlan Venture Capital, Inc. v. Regis (Wash. App. 2005) (represented trial counsel in appeal of sanction award; appeal settled post briefing)
In re Marriage of Benson, 2005 WL 2417631 (Wash. App. 2005)
Hangartner v. City of Seattle, 151 Wn.2d 439, 90 P.3d 26 (2004)
Grant County Fire Protection Dist. No. 5 v. City of Moses Lake, 150 Wn.2d 791, 83 P.3d 419 (2004)
Gontmakher v. City of Bellevue, 120 Wn. App. 365, 85 P.3d 926 (2004)
Housing Authority of City of Pasco and Franklin County v. City of Pasco, 120 Wn. App. 839, 86 P.3d 1217 (2004)
Pierce County v. State, 150 Wn.2d 422, 78 P.3d 640 (2003)
Davis v. Microsoft Corp., 149 Wn.2d 521, 70 P.3d 126 (2003)
PacifiCorp v. Northwest Pipeline GP et al., _ F. Supp. 2d _, 2012 WL 2903976 (D. Or. 2012)
Freeman v. Gregoire II (Kittitas Co. Superior Ct., 2012) (obtained summary judgment on writ and declaratory claims)
Milgard Mfg., Inc. v. Illinois Union Ins. Co., 2011 WL 3298912 (W.D. Wash. 2011)
Parisi et al. v. Sinclair et al., 774 F. Supp. 2d 310 (D.D.C. 2011) (summary judgment in favor of Amazon.com in libel action)
Pande Cameron & Co. of Seattle, Inc. v. Central Puget Sound Regional Transit Authority & City of Seattle, 610 F .Supp. 2d. 1288 (W.D. Wash. 2009)
City of Bellevue v. Parmelee, No. 08-2-30056-1SEA, (K.C. Super. Ct., 2008-2009) (public records and constitutional claims)
Sandler v. Calcagni, 565 F. Supp. 2d 184 (D. Maine 2008) (summary judgment on claims against online printer for defamation and other related torts)
Temple B'Nai Torah v. City of Bellevue, No. C05-1921JCC (W.D. Wash. 2005-2006)
United States v. Manning, 434 F. Supp. 2d 988 (E.D. Wash. 2006) (constitutionality of Washington Initiative 297)
Reliance Ins. Co. v. Plum Creek Timber Co., L.P., 2004 WL 838634 (Del. Super.) (insurance coverage)
Daimatsu v. City of Bellevue, No. 03-2-32651-8 SEA (K.C. Super. Ct., 2003) (land use/real estate)
G.B. Enterprises, Inc. v. Ronken Industries, Inc., No. 02-CV-02189-RBL (W.D. Wash. 2002) (products liability)
City of Federal Way v. St. Paul Ins. Co., No. 03-CV-00171-TSZ (W.D. Wash. 2002) (insurance coverage)