August 2, 2023
Pacifica Co-Founder Faith Li Pettis Profiled in Washington Super Lawyers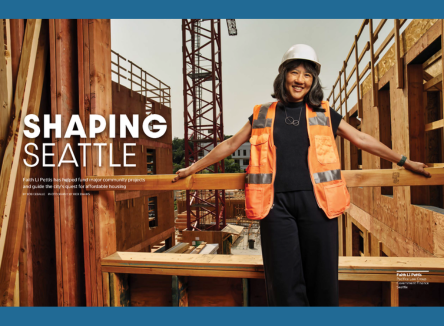 "We grew up in an era when you gave back, where you were part of the community."
The new edition of Washington Super Lawyers magazine includes a feature about Pacifica Law Group founding partner Faith Li Pettis. Titled "Shaping Seattle," the story details Faith's contributions as an attorney and affordable housing advocate to the city we love and call home. It also delves into her upbringing and her path into public finance and municipal law.
The full story is online here. Below are a few highlights:
Faith explains how she discovered municipal finance law early in her career in part through the mentorship of another early Pacifica partner, Jay Reich. Faith "felt lucky," she recalls, to find an area of the law focused on working with clients to finance development projects that benefit the public. "I have clients who want to do the right thing, and I get to help them with it," Faith told Super Lawyers writer Bob Geballe.
The article touches on Pacifica's genesis. "We wanted to recreate a firm based in community," Faith said in recalling what motivated her, Deanna Gregory, Gerry Johnson, Paul Lawrence, Stacey Lewis, and Matt Segal to found Pacifica. "We grew up in an era when you gave back, where you were part of the community."
Faith calls accepting the assignment in 2014 to co-chair Mayor Ed Murray's Housing Affordability and Livability task force "the best yes" she has said in her career. The story gets into the challenges of the HALA process—one task force member, Sightline Institute Founder Alan Durning, called it "a 10-month hair-pull"—and explains why Faith's leadership was essential. "She did remarkably well," Durning recalled, at keeping the 28 members of the task force, who represented varying interests and backgrounds, engaged in building consensus. "She's not argumentative in any way," Durning told Geballe. "That's a real skill: to have all the content knowledge and the skills of a Super Lawyer and to have the social skills and likability to keep a fraction group focused on the problem."
HALA not only successfully delivered a Seattle housing roadmap to Mayor Murray, Geballe writes, it created the Mandatory Housing Affordability program, which has raised more than $150 million in the past two years to fund affordable housing projects in the city. It also helped make affordable housing an essential topic of conversation in the Seattle community. "Prior to HALA, I think there was the view that it was an issue, but there wasn't public engagement," Faith told Geballe. "I think that changed."
We are excited to see Washington Super Lawyers recognize Faith and her leadership in our community, and hope others will give this thoughtful piece a read.