October 26, 2022
Get to Know Pacifica – Deanna Gregory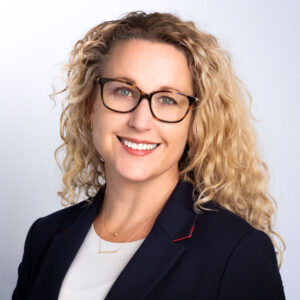 This week in Pacifica's "Get to Know" series, we are highlighting partner Deanna Gregory. Deanna's practice is concentrated in public finance and general municipal law, with emphasis on general obligation and utility revenue financings.
Why did you choose your area of practice and what do you like most about it?
Like many of my public finance colleagues, I did not really choose public finance as my area of practice, but through various twists and turns and a lot of luck, public finance found me.
I went to college with a strong focus on math/science/engineering, and never considered law school. After switching majors and working for the local prosecutor's office, I was focused on criminal law and society, justice, victim advocacy and equity. Contracts and transactional work caught my eye, however, and I was fortunate to have a summer associate position at a firm in Spokane that had a public finance practice, and then at our former firm in Seattle (Preston Gates) where I worked out of law school. I had fantastic mentors in the public finance practice and soon dove into great public projects.
It is now 20 years later and I love the path that I am on. Public finance is interesting and challenging, a great combination of municipal law, securities, contracts, and local policy. The clients are fantastic, and it is so rewarding to see community projects that I have had the privilege of being part of.
Why did you choose to practice law at Pacifica Law Group?
I practice law at Pacifica because of the people. I'm surrounded by really smart, thoughtful, respectful and fun colleagues who enjoy what they do and are proud to be part of the Pacifica team. It is quite humbling to be surrounded by such outstanding teammates! We enjoy the challenges of the legal practice together and we support each other. We also stand behind our mission statement and values, and as one of the founding partners of Pacifica, I am proud to have helped create such a thriving law firm rooted in the Pacific Northwest.
WHAT KINDS OF VOLUNTEER, PHILANTHROPIC, OR COMMUNITY EVENTS ARE IMPORTANT TO YOU?
My volunteer work currently is a fun combination of local kid activities in the Snoqualmie Valley where I live, and professional organizations. I currently serve as a class representative and volunteer for the Mount Si High School Wildcat Football Program Booster Club, and as a member of the Booster Club for the Big Star Performing Arts Studio, competition team.
I am also serving a three-year term as a member of the Board of Directors of the National Association of Bond Lawyers ("NABL"), our national industry group. I have held many leadership roles at NABL, including chairing the Institute seminar, chairing the Essentials seminar, serving as a member of the Steering Committee for the Workshop, and chairing the General Law and Practice Committee and the Education Committee, plus speaking on various panels and assisting with publications. I love giving back to and being part of the NABL community. I have personally gained so much from being part of this community, including some amazing friendships.
I am the vice-president and treasurer of the Board of Directors for Women in Public Finance – Pacific Northwest Chapter, on the education committee for Washington Public Treasurer's Association, and I am very active in other local and national public finance industry groups.  
What hobbies and activities do you participate in outside of work?
I spend most of my time outside of work cheering for my kids at football, baseball, musical theater, and middle and high school events, gardening, baking, helping with homework, and taking care of my three dogs. I am a distance runner and have set my sights on running the six Abbott World Marathon Majors – I have recently completed New York, Chicago and Berlin marathons, and still need Boston, London and Tokyo. I am a big fan of your classic goals list (aka bucket list). Next on my list are the Marine Corp Marathon at the end of October (one of my top three goal races) and learning to play the cello.