May 15, 2023
Get to Know Pacifica – Meha Goyal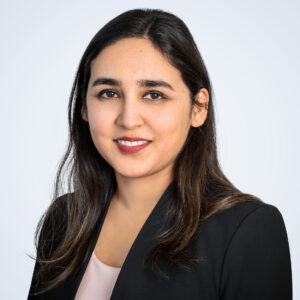 This week in Pacifica's "Get to Know" series, we are highlighting Meha Goyal. Meha is an associate in Pacifica's Litigation group, where she advises public and private clients and represents them in trial and appellate litigation in state and federal courts. 
Why did you choose your area of practice and what do you like most about it?
I chose litigation because I think it can have a direct impact on people's lives. I enjoy the variety of tasks from brief writing to court appearances as well as the fast-paced nature of the practice.
Why did you choose to practice law at Pacifica Law Group?
I chose to practice law at Pacifica Law Group because I greatly admire its commitment to public service and to the community. Additionally, it has a reputation as one of the leading law firms in the state, and I knew that it would be a place that I could continue to grow as a lawyer.
What kinds of volunteer, philanthropic, or community events are important to you?
I currently serve on the board of the Joint Minority Mentorship Program. This program matches experienced lawyers and judges with law students and young lawyers, who self-identify as underrepresented in the legal community. The pairs are encouraged to meet at least three times per year. In addition, the board organizes events throughout the year that the pairs can attend. Some examples of events we have organized in the past are a panel on different pathways to the bench and a rooftop networking event.
What is something others might find surprising about you?
I wanted to be a concert violinist when I was younger and went to the Peabody Conservatory of Music for my undergraduate degree in violin performance.