August 31, 2022
Get to Know Pacifica – Shweta Jayawardhan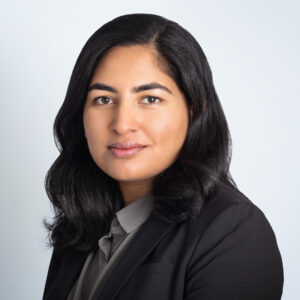 This week in Pacifica's "Get to Know" series, we are highlighting Shweta Jayawardhan. Shweta is an associate in our litigation group. Her practice focuses on municipal, real estate, land use and commercial litigation.
Why did you choose your area of practice and what do you like most about it?
I love writing, research, and crafting arguments. In litigation I have the opportunity to apply those skills to complex issues every day. I also enjoy advocating for our clients involved litigation to help them achieve their goals.
Why did you choose to practice law at Pacifica Law Group?
I chose to join Pacifica because the firm allows me the privilege to focus my practice on issues and projects with public impact. Prior to becoming an attorney I worked in local government in Seattle and I appreciate that at Pacifica my work can continue to positively impact the Northwest community.
What kinds of volunteer, philanthropic, or community events are important to you?
I serve on the board of the Phinney Neighborhood Association. The PNA is an organization that builds community in Northwest Seattle with senior and early childhood services, neighborhood resources, and community events. https://www.phinneycenter.org/
What hobbies and activities do you participate in outside of work?
I enjoy playing tennis, cooking, and travelling.
What is something others might find surprising about you?
I grew up in five different countries, though I have considered Seattle home for a long time.