September 26, 2023
2023 Ferries Conference: Stacey Crawshaw-Lewis to Moderate Public Funding Panel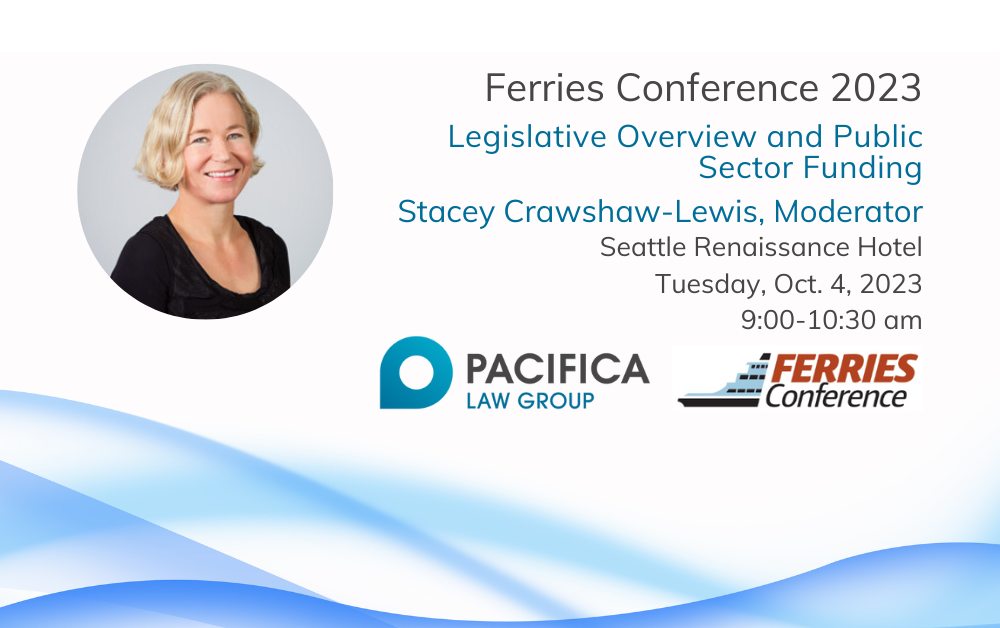 Pacifica Law Group founding partner Stacey Crawshaw-Lewis will moderate a panel discussion at the upcoming 2023 Ferries Conference, which brings together transit agency personnel, community leaders, and elected officials whose communities may benefit from marine transit.
The conversation, which will take place on Tuesday, October 3 at the Seattle Renaissance Hotel, will focus on financing options for marine transit and will include discussion of federal and state financing programs, as well as private sector financing tools. The panelists will also discuss recent legislation affecting the marine transit sector.
Stacey, who leads Pacifica's public finance practice group, will be joined in the panel discussion by Stephanie Bowman, Washington State Department of Commerce's Maritime Industry Director; federal government relations professionals Ray Bucheger of FBB Federal Relations, and Justin LeBlanc of Justin LeBlanc Government Relations; and Amanda Wyma-Bradley, a senior policy advisor on transportation issues for U.S. Senator Patty Murray.
For more information visit the Ferries Conference Site: https://www.ferriesconference.com/agenda/
To learn more about Pacifica's public finance practice or to ask questions about financing options for marine transit or other public works projects, please reach out to Stacey or any member of our public finance team.