September 30, 2020
Pacifica Law Group Adds Two New Associates: Nathaniel Ku, Real Estate and Tobias Tobler, Public Finance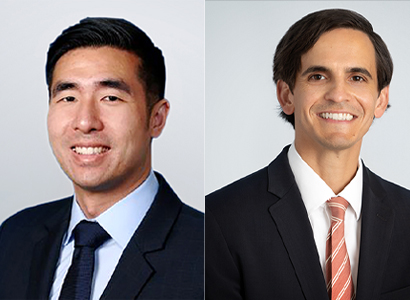 Nathaniel Ku has joined the firm's Real Estate group and Tobias Tobler has joined the firm's Public Finance group.
Seattle—Pacifica Law Group is pleased to announce that Nathaniel (Nate) Ku and Tobias (Toby) Tobler have joined the firm. Nate has joined Pacifica's Real Estate group as an associate, and Toby has joined the firm's Public Finance group as an associate.
Nate advises clients on matters including commercial leasing and real estate acquisitions and dispositions.  He has represented developers and lenders in a variety of real estate development projects, including residential, commercial, healthcare, mitigation and conservation, and energy.
Toby represents cities, counties and special purpose districts, serving as bond counsel and disclosure counsel on general obligation and revenue bonds.  Prior to joining the firm, Toby was an Assistant U.S. Attorney in the Western District of Washington and the Eastern District of Virginia, where he gained significant trial and appellate experience.